Basemaps are the canvas upon which the user can create a map quickly and easily. So ESRI with the ArcGIS Online basemaps provides to the user, the context and information that brings your data to life.
ArcGIS Online offers a large selection of ready-to-use hosted basemaps including the Esri World Imagery, Streets and Topographic basemaps, OpenStreetMap, Bing Road, Aerial, and Hybrid basemaps, and specialty basemaps that are designed to automatically sandwich your data between terrain and labels.
The BRAND NEW basemap is the Light Gray Canvas Map. As Mr. Mamata Akella comments "The fundamental idea behind Canvas Maps is that less is more. Excluding information by design provides a true canvas from which you can start working. By using fewer colors as well as displaying and labeling fewer features, we've built into the basemap a way to support improved figure-ground relationships and visual contrast in relation to the operational overlays. The figure (important map object or theme) is reserved for your information while the ground (less important object or theme) is the basemap and this has the important function of drawing more attention to the map's main theme. Because the colors in the first of our new Canvas Maps are toned down and based around a light gray palette this also assists in creating effective visual contrast between the basemap and operational overlays."
To illustrate this concept, they use the Global Distribution of Seagrass overlaid in the left part of the picture with the new Light Gray Canvas Map and in the right part with the World Street Map basemap.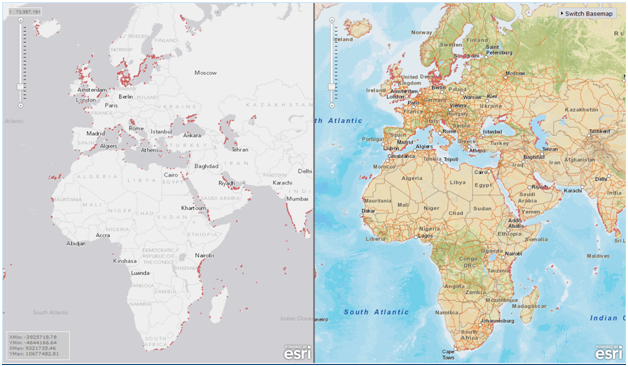 Here is the link so you can use the Light Gray Canvas Map – Link
and the link for the topic in the ESRI Blogs – Link